Details
Reverse Osmosis 8 Stage with Alkaline is the most advanced home water system in the world. A super quality royal 8 Stage filtrations system allows for removal of those nasty contaminants in your water. Providing you with clean, safe and great tasting water in your home.
What does it do? The filtration system helps ionize and activate water molecules in our cells and blood, helping improve blood circulation and overall health condition. Are you worried about removing too many of those good minerals from the water, the RO-U-08 brings back the good minerals (calcium, sodium, magnesium etc) into your drinking water.

Features/benefits
Slim line compact system design fits neatly under the sink.

Never buy bottled water again, enjoy the most purest water for drinking and cooking.

Easy Quick Change cartridges sanitary SAFE.

Total 8 Stages of filtration before entering your tap!

Eliminates high percentage of contaminants including Chlorine, Fluoride, Lead, Nitrates and Chronium.

One of the only filtration systems which bring good minerals back into your water.
Guaranteed FLUORIDE REMOVAL
8 Stage filtration process
What's included?:
8x Quick Change Cartridges

1x Pressure gauge

1x 10L Water tank

1x Deluxe Faucet
1x Plumbing Kit

1x Instruction Manual
TIPS: Why not purchase multiple cartridges from the option below as they have no expiry date and kept as long as you wish with plastic seals. Buy multiple cartridges and SAVE!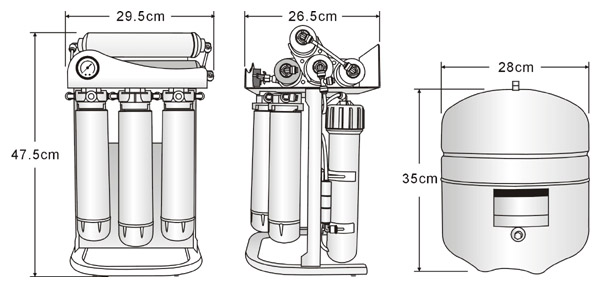 Additional Information
Model

8 Stage Reverse Osmosis Alkaline

Dimensions

Water Filter Cartridges

Mineral Filter

Alkaline Filter

Infared Filter

Inline Filter

Cartridge Size

Quick Change


Water Type

Tank, Town

Eliminates

Chlorine, Taste, Odor, Smell, Heavy Metals, Calcium, Lead, Fluoride


Cartridge Replacement Period

Sediment: 6 - 8 months

Carbon: 10 - 12 months

Certifications